Last night I managed to snag myself a Wii after five days of searching and losing out on them twice due to Best Buy's crappy shopping cart system and Verified by VISA's slow servers. Where was I… Oh, yeah. Anyway, the Wii is my first Nintendo console since the Super Nintendo way back in high school. (I've kept up with the Nintendo handhelds however. I love my DS.) I'm very excited to be able to try the motion sensing controller. It will be interesting to see how it works. The DS touch screen has allowed for some interesting ways to interact with games, and I have high hopes that the Wii will surpass it.
In honour of my purchase (which hasn't shipped yet, whaa!), here is some Nintendo humour from xkcd.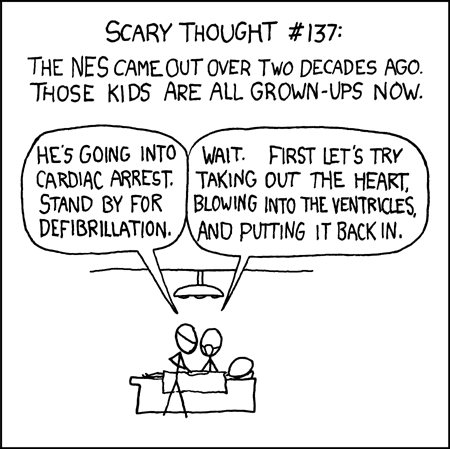 For those interested, I am feeling better about my health problems. Although I cried when I realized that I will need to give up carrots and apples, among other things, at least for the time being. I cried over carrots… Amazing.